Solar Lighting
AAES Solar Energy Solutions with Tubular Skylights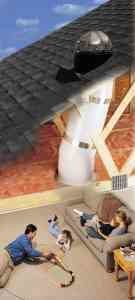 AAES installs ODL Tubular Skylight's with a patented Solar Lens® dome that captures and reflects even low angle sunlight and more ambient light down through the highly reflective tubing. The reflective tubing maximizes light more efficiently than a traditional drywall skylight shaft, or accordion style flexible tube. The diffuser, which looks like a recessed light fixture, then spreads the light evenly throughout the room. See before and after Tubular Skylight photos.
Brighten up almost any room
AAES will install your ODL Tubular Skylights for leak-free operation. Metal and injection molded roof flashings are one-piece and seamless to eliminate leakage. A non-hardening roof sealant is applied generously to the bottom of the flashing ane we use roof sealant to seal screw heads on flashing and shingles to flashing too. Tubular Skylights meet the ASTM E-331 Water Resistance Standard.
Spreads light evenly.
Solar Lens™ Acrylic Dome maximizes available light by reflecting sunlight down the light shaft.
Ideal for dark areas such as bathrooms, closets, hallways, kitchens, pantries… anywhere you need light.
Adjustable tubes make it easy to maneuver around obstacles.
95% Reflective Film brings in the most sunlight.
Fits between 16″ or 24″ o.c. rafters.
Lifetime limited warranty.
Complete Solar Energy System Design Consulting & Installation
Add value to your home or business, lower your energy costs and significantly reduce your carbon emissions. Take the first step toward energy independence. We will answer any questions you might have and arrange to schedule a free site evaluation…