Domestic Hot Water
AAES Solar Energy Solutions Domestic and Commercial Solar Hot Water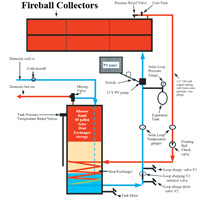 AAES is proud to offer homeowners and businesses the Fireball® 20-01 (20 square feet, series 01) superior solar water heating system. Our collectors are certified by Solar Rating and Certification Corporation and qualify for Federal tax credits. The Fireball® system uses a freeze proof heat exchange technology, each system has its own solar PV module which drives a DC pump to circulate Propylene Glycol, a safe food-grade antifreeze, from the solar collectors and through the heat exchange water storage tank and back to the collectors. No drain down, freeze protection or outside electricity is needed.
Fireball® systems are light, durable, and cost effective
Our solar collectors are so light that almost anyone can pick one up. Our six foot Fireball® collector (model 10-01) weighs only 19 pounds and our twelve foot Fireball® collector (model 20-01) weighs only 38 pounds. Even though our systems are light weight, they are extremely durable. We are so confident about the quality of our systems that we provide a Ten Year Limited Warranty. Our Fireball® systems have been tested to withstand hurricane force winds and our mounting systems are certified to 150 mph.
Expert Engineering and Top Quality Products Saves Energy and Money
The Fireball® really makes sense by paying for itself quickly! The Fireball® is a high quality system that will be providing your family or business with hot water for decades. While your family or business grows, so do your solar savings! Why rent your energy? Produce your own energy and watch your savings grow! We can even match the collector trim to the color of your home or roof.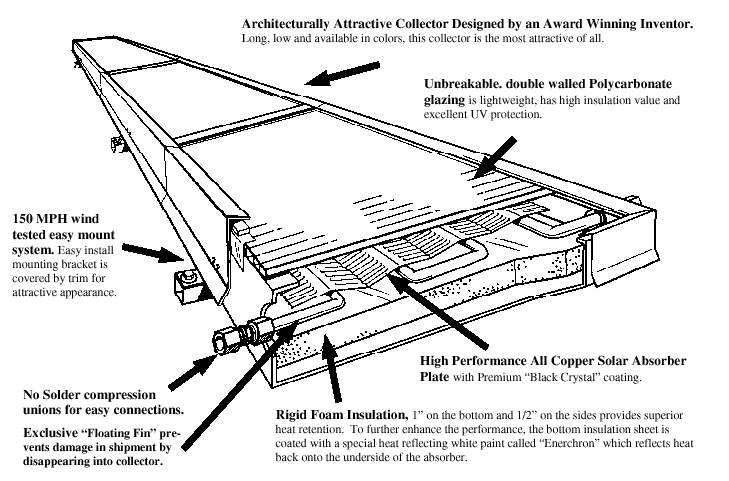 Complete Solar Energy System Design Consulting & Installation
Add value to your home or business, lower your energy costs and significantly reduce your carbon emissions. Take the first step toward energy independence. We will answer any questions you might have and arrange to schedule a free site evaluation…